Plant and tree regeneration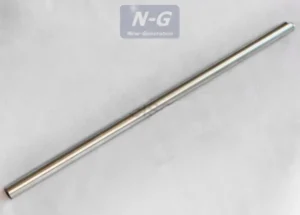 – revives up to 85% of dead plants
– revives up to 85% dead trees
– Yield increase
– Increases life expectancy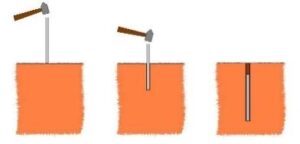 Place the rod in the ground next to the tree. If a root or something else prevents sinking, find another spot.
Sink the rod about 4 inches (10 cm) below the surface of the soil.
A normal tree needs a stick. Trees with a diameter of more than 1m need two rods. A tree with 2m diameter needs 3 sticks. Arrange them at the same distance around the tree. The bars remain in the ground forever. The BIO energetic effect never loses its impact ! The regeneration phase lasts about a year.
I bought the rainerstion rod three years ago for my dying house tree, a mountain ash, and hammered it into the ground by the trunk. Another year still branches have become scrawny. This year the tree has begun to sprout again. And this on the scrawny wood. Healthy shoots begin to compensate for the dead parts.
Christiane Rohner, 7034 Zillingtal , Christiane.rohner@air-line.at

A dead oragen tree - development from May to October with a tree stick
The same cherry tree, right picture after one year with the tree regeneration stick.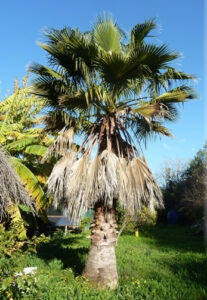 Fan palm suffered from infestation of the African palm weevil for 2 years. The palm tree is about 7 meters high and the trunk thickness is about 1 meter. In this area, most of the palm trees have died because of the infestation. N-G's tree regeneration wand resurrected the palm tree.
Thank you Antonius Santos
Report: Olive trees in Portugal
The tree was dead from our point of view, with the tree regeneration stick the olive tree sprouted again and in the 2 year we could harvest again many olives
Another olive tree was only a stump (see picture). He got new branches again and is back in full splendor!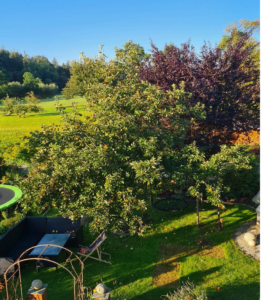 Last spring I set the tree rescue pole. He had few apples and the leaves were no longer very abundant.
This year the tree bends with apples. New shoots have also grown out in some places. A great Bracht. The tree rescue stick has exceeded my expectations.